MAN TGX 18.460 tractor unit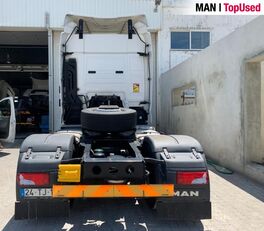 1/9
First registration
2017-07
Location
Portugal
Perafita
Seller stock ID
0001223813
Cabin
Cruise control (tempomat)
Electrically operated mirrors
Buy by leasing
Get an offer to buy a vehicle by leasing
Need delivery?
Calculate the cost of delivery
Espelho para meio-fio: izquierdo
Peso bruto admissível: 18.000 kg
Tanque de AdBlue: 80l
Distância entre eixos: 3.900 mm
Contacto: Seg.-Quinta (Mo
Thur): 08h30
Sexta (Fri.): 08h30
Sun.): Fechado (Closed)
: TGX TG2
a/c: automatic a/c
cab: long distance
delivery date: 28.07.2022
interior color: other
interior type: other
Transmissão do veículo
Caixa automática TipMatic
12+2 velocidades
Pacotes Equipamento
Pacote aerodinâmico
Pacote "Efficientline 3"
Pacote de Segurança Plus
Sistemas de assistência
MAN BrakeMatic
Assistência de frenagem
Efficient Cruise
Lane-Guard-System LGS
Hill Hold Control HHC
Luz e visão
Regulamento do alcance dos faróisÂ
Faróis de nevoeiro
Vidros coloridos
Luzes diurnas
Luz de viragem
Áudio & comunicação
Navegação no MAN Media Pack
Rádio
Porta AUX & USB
Preparação para telefone celular Bluetooth
Exterior
Suspensão mola/ar
Quinta roda
Baixa emissão sonora
Retrovisores eléctr. e aquecidos
Bloqueio de diferencial traseiro
Luzes de trabalho
Suporte para roda sobressalente
Ficha de ligação 1x15 pinos
Telhado de elevação (manual)
Segurança
Programa eletrÃŽnico de estabilidade ESP
Sistema antipatinagem ASR
Sistema anti-bloqueio ABS
derecho
Espelho de ângulo largo aquecido
Imobilizador
Protecção contra o encaixe
Sistema de telemática
Interior
Tacógrafo digital
Volante multifunções
Computador de bordo
Caixa de refrigeração
Decoração insere Alumínio
Pavimentação tapete
Conforto
Controle automático do clima
Aquecedor adicionalÂ
Assentos confortáveis dianteiros
Assentos dianteiros pneumáticos
Apoio de braço motorista
Coluna da direção ajustável
Abridor de janela eléctrico 2x
Bloqueio central com controlo remoto
Cabina isolada
Conversor de corrente-tensão
Mais equipamento
ballestas delanteras parabólicas 7,5 t
suspensión neumática trasera de 13 t
eje trasero Hypoid HY-1350
Desmultiplicación del eje HY i 2,53
calefacción para el filtro de combustible
caja de enchufe para remolque de 24V (15 polos)
placa de 5a rueda 40 mm
Outras dimensões e pesos
Dies ist ein unverbindliches Angebot. Zwischenverkauf
IrrtÃŒmer und Änderungen vorbehalten
This is a non-binding offer. Subject to prior sale
errors and changes
17h30
16h30
Sáb.,Dom (Sat
esp
cabin
drivers sleeping compartment
bluetooth
speakerphone
multi-function steering wheel
tuner
daytime running lights
traction control system
roadworthy
Important
This offer is for guidance only. Please request more precise information from the seller.
Safety tips
Seller's contacts
António Pinheiro
Languages:
English, Portuguese, Spanish
Portugal, Porto District, 4456-90, Perafita, Rua Monte do Corgo Nº 381
Seller's local time: 08:53 pm (WEST)
Selling machinery or vehicles?
You can do it with us!