MERCEDES-BENZ SPRINTER QANTUM motorhome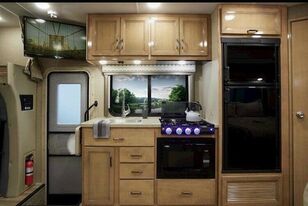 1/16
Location
Germany
MAGDEBURG
Description
Chassis brand
Mercedes-Benz
Overall dimensions
7500 m × 2300 m × 3606 m
Cabin
Autoradio
CD, MP-3, CD-changer
Cruise control (tempomat)
Electrically operated mirrors
Buy by leasing
Get an offer to buy a vehicle by leasing
Need delivery?
Calculate the cost of delivery
Condition
Technical inspection valid till
2023
Alle unsere Fahrzeuge sind in Deutschland zugelassen und haben einen deutschen Service. Bitte lassen Sie sich nicht von Fotos und Anmeldungen auf Fotos irreführen.

Mercedes Benz Sprinter:
Engine: DIESEL
Engine Brand Name Mercedes-Benz®
Engine Type V6
Cylinders 6
Horsepower (bhp/kW) 188 / 140.3
Horsepower RPM 3800
Torque (Ft Lbs/Nm) 325 / 440.6
Torque RPM 1400
Fuel Requirements Regular
Fuel Type Diesel
Turbocharged Yes
Supercharged No

Chassis Brand Mercedes-Benz® Sprinter
Displacement (l) 3
Carburetion Type Fuel Injected

hide Transmission:
Transmission Type Automatic
Number Of Speeds 5
Overdrive Yes

Heater & Cooler:
Air Conditioning Type Automatic
Heater Type Automatic
Water Heater Pump Power Mode Electrical / Propane
Water Heater Tank Bypass Yes


Audio & Communication:
Satellite Yes
Number Of Radios 1
Speaker Location (s) Interior
Surround Sound yes
Number Of Discs 1
DVD Player Standard
Number Of Televisions 3
Retractable Roof Antenna Yes


Technical Specifications:

Length (ft/m) 24.67 / 7.5
Width (in/mm) 90 / 2286
Height (in/mm) 142 / 3606.8
Wheelbase (in/mm) 170 / 4318
Interior Height (in/mm) 84 / 2133.6
GVWR (lbs/kgs) 11030 / 5003.2
Fuel Capacity (gal/l) 26.4 / 99.9
Storage Capacity (cuft/gal/l) 48.5 / 311.8 / 1373.3
Number Of Fresh Water Holding Tanks 1
Total Fresh Water Tank Capacity (gal/l) 30 / 113.6
Number Of Gray Water Holding Tanks 1
Total Gray Water Tank Capacity (gal/l) 38 / 143.8
Number Of Black Water Holding Tanks 1
Total Black Water Tank Capacity (gal/l) 24 / 90.8
Propane Tank (s) Standard
Number Of Propane Tanks 1
Total Propane Tank Capacity (gal/lbs) 16.1 / 68.2

Other:
Smoke Detector Standard
Carbon Monoxide Detector Standard
Propane Alarm Standard
Emergency Exit (s) Standard
Number Of Emergency Exits 1

Electrical:
Battery Power Converter Yes
Air Conditioning Prewiring Yes
Cable Prewiring Yes
Heat Prewiring Yes
TV Antenna Prewiring Yes
Satellite Prewiring Yes
Exterior Plugs YES
Ground Fault Plugs YES
Generator YES

Electric awning
Mosquito net on windows and doors
electrically extendable step
51/5000
electric lifts, car supports at the back

The car can be seen in German, Magdeburg

FIXED PRICES

Best time to call is between 12pm and 18 pm Monday to Sunday.

We speak in English, Polish VIBER/WhatsApp/

The price offer presented is for information purposes only and does not constitute an offer within the meaning of Article 66 paragraph 1 of the Civil Code.
sale only after inspectio.
Eingabefehler, Irrtümer und Zwischenverkauf vorbehalten.
Die gemachten Angaben in Anzeigen(Internet), Preisschildern und Bildern sind unverbindliche Beschreibungen und dienen nicht als zugesicherte Eigenschaften. Der Verkäufer übernimmt keine Haftung für Tipp- und Datenübermittlungsfehler.
Aufgeführte Ausstattungen sind ggfs. gesondert zu prüfen.
Ebenso wird für verdeckte Mängel sowie nicht aufgeführte Vorschäden keinerlei Haftung übernommen. Ausstattungs – und Verbrauchsangaben basieren auf der Abfrage der FIN Daten über das DAT System. In Einzelfällen kann es zu Datenfehlern kommen. Die FIN – Angaben werden nicht Bestandteil des Kaufvertrags.
Restrisiko nach Zerlegung des Fahrzeuges.
Alle Angaben in den Inseraten sind unverbindlich und ohne Gewähr.
Keine Rückvergütung von Anzahlung oder Fahrtkosten!!!!
Fragen Sie bitte detailliert nach bevor Sie kaufen!!!!
Besichtigung nach Absprache!
Die Beschreibung dient der allgemeinen Identifizierung des Fahrzeuges und stellt keine Gewährleistung im kaufrechtlichen Sinne dar.
Important
This offer is for guidance only. Please request more precise information from the seller.
Safety tips
Seller's contacts
Languages:
English, Russian, Polish, German
Germany, Sachsen-Anhalt, 39120, MAGDEBURG, LEIPZIGER CHAUSSEE 176
Seller's local time: 09:45 pm (CEST)
Selling machinery or vehicles?
You can do it with us!