You may find interesting
Close
New G852135 Alu trailer ONLY 840kg! Two cars
€7,279
New 35.85 Premium! BLACK coated + electric winch!
€7,750
New Autotransporter 2 Autos, ele. Winde
€7,490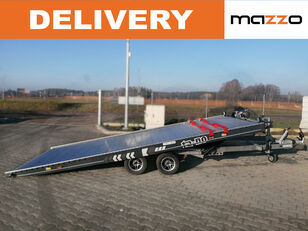 New 30.50 PREMIUM 500x210cm 3000kg electric tilted trailer
€7,390
New Lightweight Only 670kg! 8.5m full ALU trailer for two cars 3500k
€6,850
New ANDERE Autotransporter 8,5 m x 2,1m für 2 Autos 3,5t
€6,990
New LEV Lvica car transporter trailer
1/3
€7,459
Gross price, VAT – 20%
Description
Overall dimensions
11.5 m × 2.2 m × 1.2 m
Truck body
Body dimensions
8.5 m × 2.2 m × 0.4 m
Need delivery?
Calculate the cost of delivery
More details
Colour
metallic, metallic
Представляем вашему вниманию трехосный прицеп " Львица - 3"

Данный лафет для перевозки авто, изготовлен с использованием зарубежных комплектующих, но при этом рассчитан к условиям украинских дорог. Мы постарались изготовить прицеп отвечающим всем требованиям европейских стандартов, но так же позаботились о том что бы платформа могла легко эксплуатироваться по условиям дорог СНГ, всем известно на сколько они отличаются своими контрастами.

Наличие сразу трех осей (а соответственно шести колес) значительно улучшает устойчивость прицепа на дороге. Добавьте к этому усиленную подвеску, специальные колеса - и вы получите отличный набор для перевозки легковых автомобилей. Плюс такой лафет оснащается сразу тремя типами тормозных систем:

Рабочая тормозная система: необходима для служебного или экстренного торможения при движении в составе автопоезда;
Стояночный тормоз, он же ручной: надежно фиксирует лафет во время стоянки, в том числе во время загрузки / разгрузки;
Аварийный тормоз: небольшой трос цепляется за буксировал автомобиль. И если во время движения прицеп соскочит с седла, трос тут же запрет тормозную систему. Как результат, лафет остановится, а не продолжит движение накатом).
Представляємо вашій увазі тривісний причіп "Левиця - 3"

Даний лафет для перевезення авто, виготовлений з використанням зарубіжних комплектуючих, але при цьому розрахований до умов українських доріг. Ми постаралися виготовити причіп відповідає всім вимогам європейських стандартів, але так само подбали про те що б платформа могла легко експлуатуватися за умовами доріг СНД, всім відомо на скільки вони відрізняються своїми контрастами.

Наявність відразу трьох осей (а відповідно шести коліс) значно покращує стійкість причепа на дорозі. Додайте до цього посилену підвіску, спеціальні колеса - і ви отримаєте відмінний набір для перевезення легкових автомобілів. Плюс такої лафет оснащується відразу трьома типами гальмівних систем:

Робоча гальмівна система: необхідна для службового або екстреного гальмування при русі в складі автопоїзда;
Гальмо стоянки, він же ручної: надійно фіксує лафет під час стоянки, в тому числі під час завантаження / розвантаження;
Аварійний гальмо: невеликий трос чіпляється за буксирував автомобіль. І якщо під час руху причіп зіскочить з сідла, трос тут же заборона гальмівну систему. Як результат, лафет зупиниться, а не продовжить рух накатом).
Important
This offer is for guidance only. Please request more precise information from the seller.
Safety tips
Seller's contacts
Ukraine, Poltava Oblast, 39600, Кременчук, Соборна вулиця, 16/9
Seller's local time: 01:45 am (EET)
Selling machinery or vehicles?
You can do it with us!