The ad SCANIA P280 isothermal truck for sale by auction has been sold and is not included in the search!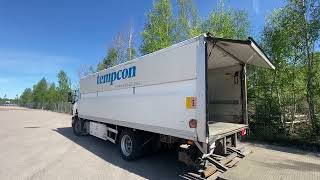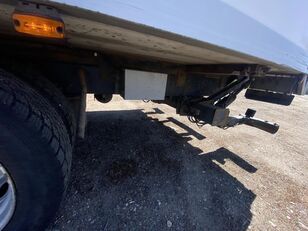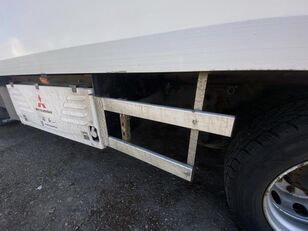 1/36
Location
Sweden
Placed on
more than 1 month
Sold via Blinto.se online auction, more information and bidding via the link.

Fryslastbil
Scania P280 LB4x2HLB
Model year: 2010.
Meter reading: 430156 kilometers.
Diesel, 280 horsepower.
Euro 5.
Gearbox: Automatic Opticruise.
Inspected until: 2022-10-31.
Tachograph inspected until: 2023-04-13
Zepro tail lift. 1500 kg.
Inspected 2022-10.
Rear view camera. Did not start test.

Weights and Measures
Total weight: 19000 kg.
Service weight: 9600 kg.
Height with lowered roof: 2850 mm.
Height raised ceiling: 3600 mm.
Cargo space
Length: 6900 mm.
Width: 2480 mm.
Height with lowered roof: 1670 mm.
Height with raised ceiling: 2360 mm
Pattern depth: 9, 6 mm front back worn.

Cabinet
Groth
Year of manufacture: 2010.
Type: P56.
Raised and lowered ceiling. Worked ok on test.

Unit
Mitsubishi TU100SAE-CN
Installed: 2015-05-04.
Serviced and leak checked: 2021-11-10.
Tried to start with jump leads, but sounded like it got too little power. Just clicked on the starter.

Seller's comment
In daily operation until 2022-04-30.
M service performed at meter reading 415840 kilometers.
Served continuously.

Known defects
Warns of faults in suspension and ABS.
Defective lamp left rear.
Damage cabinet, right rear.
Lacks rear fenders.
Decor will be completely or partially dismantled before collection.
Verkauft über Blinto.se Online-Auktion, weitere Informationen und Gebote über den Link.

Frislastbil
Scania P280 LB4x2HLB
Modelljahr: 2010.
Zählerstand: 430156 Kilometer.
Diesel, 280 PS.
Euro 5.
Getriebe: Automatisches Opticruise.
Geprüft bis: 31.10.2022.
Fahrtenschreiber geprüft bis: 13.04.2023
Zepro Ladebordwand. 1500 kg.
Inspiziert 2022-10.
Rückfahrkamera. Test nicht gestartet.

Gewichte und Maße
Gesamtgewicht: 19000 kg.
Dienstgewicht: 9600 kg.
Höhe bei abgesenktem Dach: 2850 mm.
Höhe Zwischendecke: 3600 mm.
Laderaum
Länge: 6900 mm.
Breite: 2480 mm.
Höhe bei abgesenktem Dach: 1670 mm.
Höhe mit angehobener Decke: 2360 mm
Mustertiefe: 9,6 mm vorne hinten getragen.

Kabinett
Wachstum
Baujahr: 2010.
Typ: P56.
Angehobene und abgesenkte Decke. Funktionierte im Test ok.

Einheit
Mitsubishi TU100SAE-CN
Installiert: 2015-05-04.
Gewartet und auf Lecks geprüft: 10.11.2021.
Habe versucht, mit Starthilfekabeln zu starten, klang aber so, als hätte es zu wenig Kraft. Einfach auf den Starter geklickt.

Kommentar des Verkäufers
Im täglichen Betrieb bis 30.04.2022.
M Service durchgeführt bei Zählerstand 415840 Kilometer.
Kontinuierlich serviert.

Bekannte Mängel
Warnt vor Fehlern in Federung und ABS.
Lampe hinten links defekt.
Schadenschrank hinten rechts.
Es fehlen hintere Kotflügel.
Dekor wird vor Abholung ganz oder teilweise demontiert.
Müüakse Blinto.se veebioksjoni kaudu, lisateave ja pakkumine lingi kaudu.

Fryslastbil
Scania P280 LB4x2HLB
Mudeliaasta: 2010.
Arvesti näit: 430156 kilomeetrit.
Diisel, 280 hobujõudu.
5 eurot.
Käigukast: automaatne Opticruise.
Ülevaatus kuni: 2022-10-31.
Sõidumeeriku ülevaatus kuni: 2023-04-13
Zepro sabatõstuk. 1500 kg.
Ülevaatus 2022-10.
Tahavaatekaamera. Testi ei alustanud.

Kaalud ja mõõdud
Kogukaal: 19000 kg.
Kasutusmass: 9600 kg.
Kõrgus koos langetatud katusega: 2850 mm.
Kõrgus tõstetud lagi: 3600 mm.
Kaubaruum
Pikkus: 6900 mm.
Laius: 2480 mm.
Kõrgus koos langetatud katusega: 1670 mm.
Kõrgus koos tõstetud laega: 2360 mm
Mustri sügavus: 9, 6 mm ees seljaosa kulunud.

kabinet
Groth
Tootmisaasta: 2010.
Tüüp: P56.
Tõstetud ja langetatud lagi. Testis töötas hästi.

Üksus
Mitsubishi TU100SAE-CN
Paigaldatud: 2015-05-04.
Hooldatud ja lekete kontrollimine: 2021-11-10.
Üritas alustada hüppevihmadega, kuid tundus, et jõudu on liiga vähe. Lihtsalt klõpsasin starteril.

Müüja kommentaar
Igapäevases töös kuni 2022-04-30.
M hooldus teostatud arvesti näidul 415840 kilomeetrit.
Serveeritakse pidevalt.

Teadaolevad defektid
Hoiatab vedrustuse ja ABS-i rikete eest.
Defektne vasak tagumine lamp.
Kahjustatud kapp, parem tagumine.
Puuduvad tagumised poritiibad.
Dekoor demonteeritakse enne kogumist täielikult või osaliselt.
Parduodamas per Blinto.se internetinį aukcioną, daugiau informacijos ir siūlymas per nuorodą.

Fryslastbil
Scania P280 LB4x2HLB
Modelio metai: 2010.
Skaitiklio rodmuo: 430156 kilometrai.
Dyzelinas, 280 arklio galių.
5 eurai.
Pavarų dėžė: Automatinė Opticruise.
Apžiūrėta iki: 2022-10-31.
Tachografas apžiūrėtas iki: 2023-04-13
Zepro galinis keltuvas. 1500 kg.
Apžiūrėta 2022-10.
Galinio vaizdo kamera. Bandymo nepradėjo.

Svoriai ir išmatavimai
Bendras svoris: 19000 kg.
Serviso svoris: 9600 kg.
Aukštis su nuleistu stogu: 2850 mm.
Pakeliamų lubų aukštis: 3600 mm.
Krovinio erdvė
Ilgis: 6900 mm.
Plotis: 2480 mm.
Aukštis su nuleistu stogu: 1670 mm.
Aukštis su pakeliamomis lubomis: 2360 mm
Rašto gylis: 9,6 mm priekyje nugaroje nešioti.

kabinetas
Groth
Pagaminimo metai: 2010.
Tipas: P56.
Pakeliamos ir nuleidžiamos lubos. Teste veikė gerai.

Vienetas
Mitsubishi TU100SAE-CN
Įdiegta: 2015-05-04.
Prižiūrėtas ir patikrintas sandarumas: 2021-11-10.
Bandė pradėti nuo šuolio laidų, bet atrodė, kad jis turi per mažai galios. Tiesiog spustelėjau starterį.

Pardavėjo komentaras
Kasdien veikia iki 2022-04-30.
M servisas atliktas esant skaitiklio rodmeniui 415840 kilometrų.
Tarnavo nuolat.

Žinomi defektai
Įspėja apie pakabos ir ABS gedimus.
Sugedęs žibintas kairėje pusėje.
Sugadinta spintelė, dešinė galinė.
Trūksta galinių sparnų.
Prieš surinkimą dekoras bus visiškai arba iš dalies išardomas.
Pārdots Blinto.se tiešsaistes izsolē, vairāk informācijas un solīšana, izmantojot saiti.

Fryslastbil
Scania P280 LB4x2HLB
Izlaiduma gads: 2010.
Skaitītāja rādījums: 430156 kilometri.
Dīzelis, 280 zirgspēki.
5 eiro.
Ātrumkārba: automātiskā Opticruise.
Apskate līdz: 2022-10-31.
Tahogrāfa apskate līdz: 2023-04-13
Zepro aizmugures pacēlājs. 1500 kg.
Apskatīts 2022-10.
Atpakaļskata kamera. Nesāka testu.

Svari un mēri
Kopējais svars: 19000 kg.
Servisa svars: 9600 kg.
Augstums ar nolaistu jumtu: 2850 mm.
Paceļamo griestu augstums: 3600 mm.
Kravas telpa
Garums: 6900 mm.
Platums: 2480 mm.
Augstums ar nolaistu jumtu: 1670 mm.
Augstums ar paceltiem griestiem: 2360 mm
Raksta dziļums: 9, 6 mm priekšpuse aizmugurē nolietota.

kabinets
Groth
Ražošanas gads: 2010.
Tips: P56.
Paaugstināti un nolaisti griesti. Pārbaudē strādāja labi.

Vienība
Mitsubishi TU100SAE-CN
Uzstādīts: 2015-05-04.
Apkopts un pārbaudīta hermētiskuma pārbaude: 2021-11-10.
Mēģināja sākt ar lēcieniem, bet izklausījās, ka tam ir par maz jaudas. Tikko noklikšķināju uz startera.

Pārdevēja komentārs
Ikdienas darbībā līdz 2022-04-30.
M serviss veikts pie skaitītāja rādījuma 415840 kilometriem.
Pasniedz nepārtraukti.

Zināmi defekti
Brīdina par piekares un ABS kļūdām.
Bojāts lukturis kreisajā aizmugurē.
Bojāts skapis, labā aizmugure.
Trūkst aizmugurējo spārnu.
Dekors tiks pilnībā vai daļēji demontēts pirms savākšanas.
Sprzedawane na aukcji internetowej Blinto.se, więcej informacji i licytacja za pośrednictwem linku.

Fryslastbil
Scania P280 LB4x2HLB
Rok modelowy: 2010.
Odczyt licznika: 430156 kilometrów.
Diesel, 280 koni mechanicznych.
Euro 5.
Skrzynia biegów: automatyczny Opticruise.
Inspekcja do: 2022-10-31.
Sprawdzony tachograf do: 2023-04-13
Winda załadowcza Zepro. 1500 kg.
Inspekcja 2022-10.
Tylna kamera. Nie rozpoczął testu.

Wagi i rozmiary
Waga całkowita: 19000 kg.
Waga serwisowa: 9600 kg.
Wysokość z opuszczonym dachem: 2850 mm.
Wysokość podniesionego sufitu: 3600 mm.
Przestrzeń ładunkowa
Długość: 6900 mm.
Szerokość: 2480 mm.
Wysokość z obniżonym dachem: 1670 mm.
Wysokość z podniesionym sufitem: 2360 mm
Głębokość wzoru: 9, 6 mm noszony przód tył.

Gabinet
Groth
Rok produkcji: 2010.
Typ: P56.
Podniesiony i obniżony sufit. Działało dobrze na teście.

Jednostka
Mitsubishi TU100SAE-CN
Zainstalowano: 2015-05-04.
Serwisowany i sprawdzony pod kątem szczelności: 2021-11-10.
Próbowałem zacząć od przewodów skokowych, ale brzmiało to, jakby miały za mało mocy. Po prostu kliknąłem starter.

Komentarz sprzedawcy
W codziennej eksploatacji do 2022-04-30.
Usługa M wykonywana przy odczycie licznika 415840 kilometrów.
Podawane w sposób ciągły.

Znane wady
Ostrzega o usterkach zawieszenia i ABS.
Uszkodzona lampa lewa tylna.
Szafka na uszkodzenia, prawa tylna.
Brak tylnych błotników.
Dekor zostanie całkowicie lub częściowo zdemontowany przed odbiorem.
Säljes via Blinto.se nätauktion, mer information och budgivning via länken.

Fryslastbil
Scania P280 LB4x2HLB
Årsmodell: 2010.
Mätarställning: 430156 kilometer.
Diesel, 280 hästkrafter.
Euro 5.
Växellåda: Automatisk Opticruise.
Besiktigad till: 2022-10-31.
Färdskrivare besiktigad till: 2023-04-13
Zepro bakgavellyft. 1500 kg.
Besiktigad 2022-10.
Backkamera. Startade ej vid test.

Mått och vikt
Totalvikt: 19000 kg.
Tjänstevikt: 9600 kg.
Höjd med nersänkt tak: 2850 mm.
Höjd upphöjt tak: 3600 mm.
Lastutrymme
Längd: 6900 mm.
Bredd:2480 mm.
Höjd med sänkt tak: 1670 mm.
Höjd med upphöjt tak: 2360 mm
Mönsterdjup: 9, 6 mm fram bak slitna.

Skåp
Groth
Tillverkningsår: 2010.
Typ: P56.
Höj och sänkbart tak. Fungerade ok vid test.

Aggregat
Mitsubishi TU100SAE-CN
Installerat: 2015-05-04.
Servat och läckagekontrollerat: 2021-11-10.
Försökte starta med startkablar, men lät som den fick för lite ström. Klickade bara i startmotorn.

Säljarens kommentar
I daglig drift fram till 2022-04-30.
M service genomförd vid mätarställning 415840 kilometer.
Servad löpande.

Kända defekter
Varnar för fel i fjädring och ABS.
Defekt lykta vänster bak.
Skada skåp, höger bak.
Saknar bakskärmar.
Dekor kommer helt eller delvis demonteras innan avhämtning.